Question
How do I connect my Pacific Time App as a free trial user?
Answer
To use Pacific Time, you need to start a free 30-day trial and then connect your app to that trial system.

Receive Free Trial Access Information
To get started with Pacific Time, there is a one-time setup needed to connect the app to the trial server. The app will memorize your settings.
After you request your free trial, monitor your email for information to access your new trial system including:
1. Trial system URL
...which should look like this:

https://EVAL405.pacifictimesheet.com

*You can use this URL to access Pacific Timesheet, your cloud-based enterprise software system.
Server Name

The email will provide your Server name, something like:
EVAL405
...where EVAL stands for evaluation system, and 405 is the system number.

One easy to remember your Server name is that it falls between the

https://
EVAL405
.pacifictimesheet.com, or:

https://EVAL405.pacifictimesheet.com


Login Name & Starting Password
Your login name will be the email address you registered with:
john.smith@mycompany.com
...and your password will be set to:
12345

Ready to Go
Next, after installing the app, open it to the server page: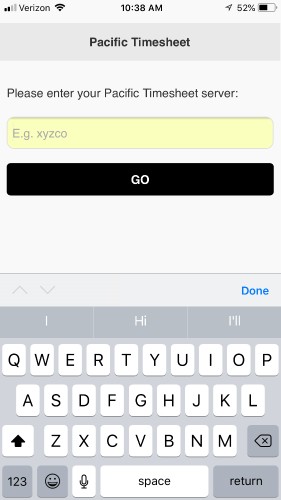 Enter your free trial Server name.
Enter your login name.
Enter your starting password.
And you're in.

Go back to the Pacific Time article